Hall Of Fame Profile
Reggie Leach

Induction into Flyer Hall Of Fame - Feb. 1992

Reggie Leach's 71-72 Rookie Card

In 1975-76 Reggie Leach was part of the famed LCB line (with Bobby Clarke and Bill Barber). The line scored a then NHL record 141 goals, and 61 one of those came from Leach. Leach was one of the most fear goal scorers in Flyers history. His 306 career goals place him 6th on the Flyers all time list and his place in the hearts of Flyers fans.

| | |
| --- | --- |
| Leach with the Seals | Reggie grew up in Riverton Manitoba in a family ravaged by alcoholism. Hockey was is way out and at 16 he headed to Flin Flon Manitoba were he played with Bobby Clarke. The combined on the most potent goal scoring combinations in junior hockey history. In 1967-68 he lead the league in goals and was second to Clarke in points. Even after Bobby was drafted by the Flyers, Reggie continued to score in his final year of junior were he was league MVP, league top scorer and lead his team to the WHL championship. Reggie was drafted 3rd overall by the Boston Bruins, but this was the powerhouse Bruin years and Reggie managed only playing 23 games all year (scoring only twice). Lack of playing time hurt Reggie the following year too, where 56 games with the Bruins resulted in just 7 goals. Near the trading deadline, Leach was involved in the biggest trade of the 71-72 season that saw Carol Vadnais going to Boston for Leach, Bob Stewart and Rick Smith. Seals' Gm Garry Young was Boston's head scout when the Bruins selected Reggie in the draft. In California Reggie started to develop. The end of the 71-72 season saw Reggie score 6 goals in the final 17 games (missing his Bruins output by just a single goal) The following two seasons saw Reggie get a pair of twenty goals seasons, not bad for the woeful Seals. Both years Reggie lead the team in game winning goals. |
Even though Bobby Clarke hadn't played with Reggie since his junior days, he kept tabs on his old friend and requested that the Flyers look at obtaining him, predicting 50 goals seasons if they did. Well, on May 24, 1974, fresh off their first Stanley Cup championship they did. The Flyers sent off Larry Wright, Al MacAdam & 1974 1st Rounder (Ron Chipperfield) to the Seals for Leach. 45 goals and another Stanley Cup championship later, Clarke was proved to be correct. That first year with the Flyers Reggie tied Guy Lafleur for leading the entire NHL with 11 game winning goals. But that was only the start. The next season saw Reggie put on the best single season goal scoring performance of any player in Flyers history. A familiar site that season was seeing Reggie streak down the right wing and ripping a lightning quick slap shot past the goalie that earned him the nickname "The Rifle". Reggie put 61 shots past opposition goalies that year - more than any Flyer ever has done before or since. When the playoffs began, Reggie didn't stop. Leach scored an NHL record 19 playoff goals (a record that still stands today). It was highlighted by a 5 goal performance on May 6, 1976 (no other Flyer has ever scored 5 goals in any game - playoffs or regular season). His total of 80 goals (regular season plus playoffs) set a then-NHL record as well. Unfortunately it wasn't enough for the Flyers to take the Cup, losing to Montreal, but it was enough for Reggie to win the Conn Smythe trophy as the Stanley Cup playoffs MVP.

Leach celebrates a 5 goal
game in semi finals vs
Boston : May 6, 1976
A sight that put fear in
many goalies: a streaking Leach

Always put under fire for occasional laziness and defensive abilities, Reggie started getting into coach Fred Shero's doghouse. When reminiscing, Shero often commented that if there was one thing he regretted during his days as Flyers' coach, it was his handling of Reggie Leach. Reggie continued to score decently (getting 32, 24 and 24 goals) his next 3 seasons, but never to the great totals of his first two years. By the 1979-80 season, Pat Quinn had taken over as coach of the Flyers. He seemed able to motivate Leach, and did something that would have been unthinkable in the Fred Shero era - he used Leach as a penalty killer. Leach's confidence grew and so did his goal totals. Helping his team to a North American professional sports record 35 game unbeaten streak, Reggie once again hit the 50 goal mark. During the season Reggie was selected to the all star game and was the only player ever from a losing team to be named as all star game MVP (getting 1 goal and 1 assist in a 6-3 loss). Unfortunately another great season by Leach resulted in a loss in the Stanley Cup finals, this time to the New York Islanders.
Leach had another solid season in 1980-81, getting 34 goals, however his lack of desire to practice was starting to get him into the new coach's doghouse as well. He slumped to just 26 goals the following year and just before the '82 playoffs began Reggie was waived and claimed by the Detroit Red Wings. In his last year in the NHL he got 15 goals for his Detroit team. Not able to get a job in the NHL, Leach played one last year with the Montana Magic of the CHL getting 21 goals during the season. In mid December of 1997 in a bit of a publicity stunt, at age 47 Reggie played one last professional game with the Madison Monsters of the UHL (and was kept off the scoring sheet). But Reggie will always be remembered by Flyer fans as one the best pure goal scorers in team history, and for that memorable season when he lit the lamp 80 times.

Leach with Wings in final
season in the NHL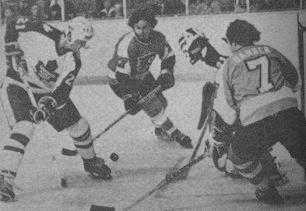 Leach & Barber zero in on Leaf's goal



| | | | | | | | | | | | | |
| --- | --- | --- | --- | --- | --- | --- | --- | --- | --- | --- | --- | --- |
| Year | GP | G | A | Pts | PIM | +/- | PP | SH | GW | GT | Sht | Sh% |
| 1974-75 | 80 | 45 | 33 | 78 | 63 | 53 | 12 | 0 | 10 | 5 | 289 | 15.57 |
| 1975-76 | 80 | 61 | 30 | 91 | 41 | 73 | 10 | 0 | 11 | 5 | 335 | 18.21 |
| 1976-77 | 77 | 32 | 14 | 46 | 23 | 6 | 10 | 0 | 3 | 4 | 237 | 13.5 |
| 1977-78 | 72 | 24 | 28 | 52 | 24 | 20 | 9 | 0 | 4 | 0 | 195 | 12.31 |
| 1978-79 | 76 | 34 | 20 | 54 | 20 | -3 | 13 | 0 | 6 | 2 | 279 | 12.19 |
| 1979-80 | 76 | 50 | 26 | 76 | 28 | 40 | 5 | 4 | 7 | 2 | 328 | 15.24 |
| 1980-81 | 79 | 34 | 36 | 70 | 59 | 21 | 15 | 1 | 2 | 3 | 321 | 10.59 |
| 1981-82 | 66 | 26 | 21 | 47 | 18 | 2 | 5 | 0 | 5 | 0 | 211 | 12.32 |
| TOTAL | 606 | 306 | 208 | 514 | 276 | 212 | 79 | 5 | 48 | 21 | 2195 | 13.94 |

| | | | | | | | | | | | | |
| --- | --- | --- | --- | --- | --- | --- | --- | --- | --- | --- | --- | --- |
| Year | GP | G | A | Pts | PIM | +/- | PP | SH | GW | OT | Sht | Sh% |
| 1975P | 17 | 8 | 2 | 10 | 6 | | 2 | 0 | 2 | 0 | | |
| 1976P | 16 | 19 | 5 | 24 | 8 | | 2 | 0 | 2 | 1 | | |
| 1977P | 10 | 4 | 5 | 9 | 0 | | 0 | 0 | 2 | 1 | | |
| 1978P | 12 | 2 | 2 | 4 | 0 | | 1 | 0 | 0 | 0 | | |
| 1979P | 8 | 5 | 1 | 6 | 0 | | 8 | 0 | 2 | 0 | | |
| 1980P | 19 | 9 | 7 | 16 | 6 | | 2 | 1 | 0 | 0 | | |
| 1981P | 9 | 0 | 0 | 0 | 2 | | 0 | 0 | 0 | 0 | | |
| TOTAL | 91 | 47 | 22 | 69 | 22 | 0 | 15 | 1 | 8 | 2 | 0 | |

| | |
| --- | --- |
| Season | Award |
| 1975-76 | Conn Smythe : Playoff MVP |
| 1975-76 | 2nd Team : Right Wing |

| | | |
| --- | --- | --- |
| Date | Scorer | Score |
| 14-Mar-76 | Reggie Leach : 50th Goal | Atl 1 - Phi 6 |
| 3-Apr-80 | Reggie Leach : 50th Goal | Wash 2 - Phi 4 |
---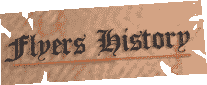 Copyright 1998-2008 - P.Anson