Hall Of Fame Profile
Bill Barber

Induction into Flyer Hall Of Fame - March 1989

Induction into Hockey Hall Of Fame - Sept. 1990

Bill Barber's 73-74 Rookie Card

One of the most underrated players ever has to be Bill Barber. It's probably because Barber wasn't flashy, but what Bill lacked in glitz he more than made up for in heart. There wasn't too many players that could do as many things as well as this hall of famer.

Barber played in 7
All-Star Games

Bill was born on July 11th, 1952 in Callander, Ontario. Playing his junior hockey in Kitchener, he scored 127 goals and added 171 assists. Bill was taken 7th overall in the 1972 expansion draft. The Montreal Canadiens had a few high draft picks that year but Bill felt fortunate that the Flyers had selected him, worrying about how much icetime he'd get with Montreal. Originally playing at center the Flyers placed him with their AHL farm team in Richmond mainly to improve his checking . 9 goals and 5 assists in 14 games, plus an injury to Bill Flett, resulted in a quick call-up to the main team. There Bill scored 30 goals and had 64 points in just 69 games. He tied the Ranger's Steve Vickers in rookie goals and led all rookies in points. In what would prove to be a poor decision, Steve Vickers somehow would win the Calder Trophy as rookie of the year.
| | |
| --- | --- |
| Shero had Barber splitting time between center and left wing but after a line was put together that had both Clarke and Barber playing side by side, Barber would remain mostly as a left winger for the rest of his career. In his sophomore year Barber would score 34 goals, second most on the team. He'd score another 34 goals the following year as well, Each of those 34 goal seasons were followed by a Stanley Cup championship. The most productive season for Bill was the 1975-76 season. Bill would score career highs in goals with 50 and points with 112. On a line with Reggie Leach and Bobby Clarke , the L-C-B line established a then NHL record for goals by a line with 141. In September of that year, the entire line represented Canada in the first Canada Cup tournament. Barber would score one of the most important goals in the tournament. With time running out Barber scored a goal that tied the championship game with the Czechs. Sittler's goal in overtime would eventually win it. | Barber in '76 Canada Cup |
Barber had record setting
playoffs in 1980

Bill productivity took a serious slide the following season where he slumped to just 20 goals and 55 points. But typically Barber overcame those difficulties and improved and scored 40 or more goals in 4 of the next 5 seasons. Barber's all-around ability had him as one of the best penalty killers in the NHL and playing the point on powerplays. In 1979-80 Barber helped his team to the 35 game unbeaten streak and provided a record setting spark in the playoffs. He tied for the lead in playoff goals that year with 12 and in the semifinals against the Minnesota North Stars, Bill set NHL records for most goals (9) and shorthanded goals (3) in a playoff series.
In 1982-83 Bill would suffer his first major injury - to his knee. After coming back Bill then suffer a broken jaw which needed to be wired shut. The following year Bill suffer another injury but this time it would be career ending. Barber has major reconstructive surgery on right knee in April of 1984. Bill tried for over a year to work on getting back but the injury was too severe. On August 22, 1985 Bill retired. At the end of the season Bill replaced Gary Inness and Frank Mathers as coach of the AHL Hershey Bears (the Flyers AHL farm team at the time). The following season Bill served as an assistant coach for the Flyers, before joining their scouting staff, becoming the Director of Pro Scouting (a job Bill held from 88-89 to 95-96 ). Bill then once again became an assistant coach for the Flyers from Feb. 26 '94 through the end of the 94-95 season. Then, completing the circle, Bill was named as head coach of the Hershey Bears on December 30th, 1995 (this time replacing Jay Leach). After compiling a respectable 22-18-7 mark, when the Flyers moved their farm team to Philadelphia (becoming the Phantoms), Barber came along as their new coach. The Phantoms posted a of 49-18-3-10 which was the best record ever by a first year AHL franchise. The following year Barber guided the Phantoms to an AHL championship. In 1998 and 1999 Barber served as a coach in the AHL all-star game. Only 3 other coaches in the history of the AHL had ever coached in two consecutive all star games (Fred "Bun" Cook, Frank Mathers and Johnny Crawford) At the beginning of the 2000-01 season, Barber was named an assistant coach with the Flyers after failing to get a heading coaching job elsewhere. But on Decemeber 10th 2000, after uninspired play result in only a .500 record, Craig Ramsay was fired as coach and Barber was named as 14th coach in the team's history. Although the team would lose in teh first round of the playoffs, Barber's skill as a coach was rewarded as he was named as the Jack Adams trophy winner as best coach in the NHL for the 2000-01 season. After being replace as head coach after the 2001-02 season, Barber became the Director of Player Personnel with the Tampa Bay Lightning on August 14th, 2002.


The former Flyers' captain whould
retire and become one the best
coaches in AHL history
and the 14th coach in Flyers history
Barber not only was one of the best all around players of his time but he has become one of the best coaches in AHL history. Barber stands amongst the team's leaders in practically every Flyer lifetime offensive category. He's first in goals, shots, playoff goals and playoff shorthanded goals. He stands second in games, points, powerplay goals, shorthanded goals, game winning goals, and playoff games. He ranks third in assists, lifetime plus-minus, playoff assists and playoff points.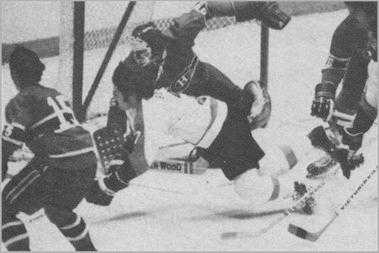 Barber in his rookie year in front
of Dryden in the Montreal goal



| | | | | | | | | | | | | |
| --- | --- | --- | --- | --- | --- | --- | --- | --- | --- | --- | --- | --- |
| Year | GP | G | A | Pts | PIM | +/- | PP | SH | GW | GT | Sht | Sh% |
| 1972-73 | 69 | 30 | 34 | 64 | 46 | 10 | 7 | 0 | 2 | 1 | 214 | 14.02 |
| 1973-74 | 75 | 34 | 35 | 69 | 54 | 34 | 9 | 2 | 5 | 2 | 290 | 11.72 |
| 1974-75 | 79 | 34 | 37 | 71 | 66 | 46 | 8 | 5 | 4 | 1 | 276 | 12.32 |
| 1975-76 | 80 | 50 | 62 | 112 | 104 | 74 | 15 | 4 | 10 | 2 | 380 | 13.16 |
| 1976-77 | 73 | 20 | 35 | 55 | 62 | 32 | 3 | 0 | 3 | 0 | 245 | 8.16 |
| 1977-78 | 80 | 41 | 31 | 72 | 34 | 31 | 8 | 4 | 9 | 5 | 262 | 15.65 |
| 1978-79 | 79 | 34 | 46 | 80 | 22 | 19 | 10 | 6 | 4 | 0 | 253 | 13.44 |
| 1979-80 | 79 | 40 | 32 | 72 | 17 | 39 | 7 | 2 | 7 | 3 | 265 | 15.09 |
| 1980-81 | 80 | 43 | 42 | 85 | 69 | 6 | 16 | 2 | 2 | 4 | 292 | 14.73 |
| 1981-82 | 80 | 45 | 44 | 89 | 85 | 4 | 13 | 4 | 6 | 1 | 350 | 12.86 |
| 1982-83 | 66 | 27 | 33 | 60 | 28 | 17 | 5 | 2 | 1 | 0 | 215 | 12.56 |
| 1983-84 | 63 | 22 | 32 | 54 | 36 | 4 | 3 | 0 | 1 | 0 | 203 | 10.84 |
| TOTAL | 903 | 420 | 463 | 883 | 623 | 316 | 104 | 31 | 54 | 19 | 3245 | 12.94 |

| | | | | | | | | | | | | |
| --- | --- | --- | --- | --- | --- | --- | --- | --- | --- | --- | --- | --- |
| Year | GP | G | A | Pts | PIM | +/- | PP | SH | GW | OT | Sht | Sh% |
| 1973P | 11 | 3 | 2 | 5 | 22 | | 0 | 0 | 0 | 0 | | |
| 1974P | 17 | 3 | 6 | 9 | 18 | | 0 | 0 | 1 | 0 | | |
| 1975P | 17 | 6 | 9 | 15 | 8 | | 0 | 0 | 0 | 0 | | |
| 1976P | 16 | 6 | 7 | 13 | 18 | | 8 | 0 | 0 | 0 | | |
| 1977P | 10 | 1 | 4 | 5 | 2 | | 0 | 0 | 0 | 0 | | |
| 1978P | 12 | 6 | 3 | 9 | 2 | | 1 | 0 | 0 | 0 | | |
| 1979P | 8 | 3 | 4 | 7 | 10 | | 0 | 0 | 0 | 0 | | |
| 1980P | 19 | 12 | 9 | 21 | 23 | | 1 | 3 | 4 | 0 | | |
| 1981P | 12 | 11 | 5 | 16 | 0 | | 8 | 1 | 1 | 0 | | |
| 1982P | 4 | 1 | 5 | 6 | 4 | | 0 | 1 | 0 | 0 | | |
| 1983P | 3 | 1 | 1 | 2 | 2 | -4 | 1 | 0 | 0 | 0 | | |
| TOTAL | 129 | 53 | 55 | 108 | 109 | -4 | 19 | 5 | 6 | 0 | 0 | |

| | |
| --- | --- |
| Season | Award |
| 1980-81 | Yanick Dupre Memorial : Class Guy |

| | | |
| --- | --- | --- |
| Date | Scorer | Score |
| 3-Apr-76 | Bill Barber : 50th Goal | Buf 2 - Phi 5 |
| 18-Mar-76 | Bill Barber : 100th Point | Van 2 - Phi 3 |
---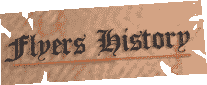 Copyright 1998-2008 - P.Anson