Hall Of Fame Profile
Dale Hawerchuk

Induction into Hockey Hall Of Fame - Nov. 2001

Dale Hawerchuk's 82-83 Rookie Card

Dale Hawerchuk spent much of his career underappreciated. During his peak years he lived in Wayne Gretzky's shadow. The lack of recognition even dogged him in retirement. He was passed over during his first year of eligibilty for the hall of fame, but was finally inducted in 2001.


Dale set rookie
record while with the Jets

Dale's last two years of junior however were filled with recognition. In 1979-80 he won Instructeurs Trophy and the Guy Lafleur Trophy (QMJHL playoff MVP). The following year he won The CHL Player of the Year Award, Michel Briere Trophy (QMJHL most valuable player), Jean Beliveau Trophy (QMJHL leading scorer), the CCM Trophy (1980-81). He was also named to QMJHL All-Star first team and set a Memorial Cup tournament record for goals (eight).
The Winnipeg Jets were woeful in 1980-81, finishing dead last in the NHL. Earning the first overall pick in the NHL entry draft, they selected Hawerchuk. It turned out to be a wise move.He captured the Calder Memorial Trophy after registering 103 points (45G,58A) during the 1981-82 season. He was the youngest ever to win award and youngest player ever to register 100 points (18 years, 351 days). He was also named as NHL Rookie of the Year by The Sporting News (1981-82) while he led Winnipeg to largest single-season turn-around by one team in NHL history (plus-48 points from the previous year).
While with the Jets, Dale had his career year during the 1984-85 season. It started with his being named captain (4th youngest captain in NHL history). During that season he had a career high of 130 pts in 1984-85, and was named to the NHL's second all-star team. But most impressively, he was runner-up to Wayne Gretzky for Hart Trophy as the NHL MVP.
Hawerchuk would spend 9 seasons with the Jets, totalling 929 points on 379 goals and 550 assists and added another 49 points in 39 playoff games. He broke 17 club records, including most goals and most points. It was while with the Jets that Dale set an NHL single-game record for most assists in one period -- 5 (March 6, 1984). But during the 1990 off-season the Jets traded Dale to the Buffalo Sabres - and it turned out rather well for the Jets team. Along with Dale the Sabres got a first-round pick (left winger Brad May) in 1990 draft for defenseman Phil Housley, left winger Scott Arniel, right winger Jeff Parker and first-round pick (center Keith Tkachuk) in 1990 draft.

Dale - 4th youngest
captain in NHL history
Dale score 500th
career goal with Sabres

Dale ended up playing 5 solid seasons with the Sabres. It was while with the Sabres that he registered his 1000th career point (the 31st NHL player ever to do so). During the 1995 season Dale tested the free agent waters and signed with the St.Louis Blues. Unfortunately for Dale the Blues hired Mike Keenan as coach around the same time. Keenan's coaching style and Dale's playing style never meshed. But On Januray 31, 1996 a third period slap shot beat Toronto's Felix Potvin in a 4-0 Blues win. That goal was Dale's 500th in his career, becoming the 23rd player in NHL history to reach that mark. But Hawerchuk never completely got out of Keenan's doghouse. Soon after, Keenan traded him to the Flyers for Craig MacTavish (March 15, 1996).
The Flyers were looking for improved offensive production and Dale's solid play helped in that direction. When Micheal Renberg went down with an injury, Dale shifted to right wing, filling his slot on the Legion Of Doom line. It was Dale versatility that proved most valuable to the Flyers. He could fill a spot on the top line or could be an effective player on the checking line. During their Stanley Cup final run Dale did just that - unfortunately the team would fall short, losing in the finals to Detroit.
The following season would be Dale last. But he would have a few more highlights before it was over. On November 21st 1996 Dale would have his best scoring game as a Flyer when he would get a hattrick in a 7-3 win over Pittburgh. It was Dale's only 3 goal game as a Flyer and 14th of his career. Dale represented the Flyers at the 1997 NHL All-Star Game, name as a veteran selection by the commissioner. That would be his 5th all-star game appearance, having played in 1982, 1985, 1986, 1988 and 1997. But during that last season, Hawerchuk's effectivness started to diminish. A hip injury suffered in Phoenix never healed with arthritis adding to the problem. Finally on August 25th, 1997 that arthritic hip forced him to retire.

Dale's versitility made
him valuable to Philly

Dale would finish his career 21st in NHL history with 518 goals, 10th in assists with 891, and 10th in points with 1,409. Dale will also be remembered as having played for Canada in a World Junior Championship, three World Championships and two Canada Cups and competed in Rendez-Vous '87. Currently Hawerchuk owns a 100-acre horse farm near Hockley Valley Inn and Conference Centre near Orangeville, Ontario.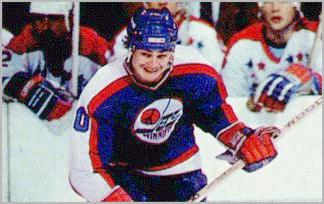 Dale - greatest Winnipeg Jet in team history


| | | | | | | | | | | | | |
| --- | --- | --- | --- | --- | --- | --- | --- | --- | --- | --- | --- | --- |
| Year | GP | G | A | Pts | PIM | +/- | PP | SH | GW | GT | Sht | Sh% |
| 1995-96 | 16 | 4 | 16 | 20 | 4 | 10 | 1 | 0 | 1 | 0 | 44 | 9.09 |
| 1996-97 | 51 | 12 | 22 | 34 | 32 | 9 | 6 | 0 | 2 | 0 | 102 | 11.76 |
| TOTAL | 67 | 16 | 38 | 54 | 36 | 19 | 7 | 0 | 3 | 0 | 146 | 10.96 |

| | | | | | | | | | | | | |
| --- | --- | --- | --- | --- | --- | --- | --- | --- | --- | --- | --- | --- |
| Year | GP | G | A | Pts | PIM | +/- | PP | SH | GW | OT | Sht | Sh% |
| 1996P | 12 | 3 | 6 | 9 | 12 | 0 | 1 | 0 | 0 | 0 | 48 | 6.25 |
| 1997P | 17 | 2 | 5 | 7 | 0 | -2 | 1 | 0 | 1 | 0 | 24 | 8.33 |
| TOTAL | 29 | 5 | 11 | 16 | 12 | -2 | 2 | 0 | 1 | 0 | 72 | 6.94 |


---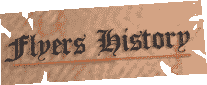 Copyright 1998-2008 - P.Anson