Hall Of Fame Profile
Mark Howe

Induction into Flyer Hall Of Fame - Apr. 2001

Induction into Hockey Hall Of Fame - Sept. 2011

Mark Howe's 74-75 Rookie Card
with father Gordie and brother Marty

Mark Howe wasn't flashy or spectuacular. But he was the Flyers' greatest ever defenseman. He excelled on both ends of the ice, setting team scoring records for defensemen on one end and setting team records in plus-minus at the other. He came out of his father's shadow in Philadelphia and has earned his status as a member of the Flyers Hall Of Fame.


Mark started his pro-career
with the WHA's Hoston Aeros

Mark started out earning championships early on in his career. In 1970-71, at 14, he led Detroit Jr. Red Wings to the US National Junior championships, leading league in assists and points, and named as outstanding forward. A year later he missed most of the season with corrective knee surgery but the next season he was still named to the US Olympic team. The team surprised everyone, earning a Silver medal. Not finished with championships, he moved to Toronto to play junior hockey in Canada and was named Memorial Cup MVP for his Toronto Marlboros. A new league, the WHA was forming. Mark's parents were approached about having Mark and his brother Marty playing in the upstart league. Gordie surprized everyone when he offer to come out of retirement so he could play with his sons. The trio led their Hoston Aeros to league championships in their first two years. The first year (1973-74) Mark made 2nd team all-star left wing and was named as the Lou Kaplan Award winner as Rookie of the Year. The following year on the way to the championship, Mark led the league in playoff goal scoring.
After starting out with so many championships and titles, the 74-75 WHA Avco Cup championship would prove to be Mark's last (he would end up as WHA runner up in 1976 and 1978 and Stanley Cup runner-up in 1985, 1987 and 1995). In 1975-76 Mark had 6 shorthanded goals - the 3rd best in WHA history. He also tied a WHA record with 4 assists in a playoff game (Apr-21-76 vs San Diego), and became the youngest WHA player ever to score 100 career goals. The following season (1976-77) Mark started to play defense full time. As predicted, he could dominate games from that position, and despite missing over 20 games due to a seperated shoulder, mark made second team all star at defense. In 1977-78, the Howe trio moved to New England. Mark would end up 10th in league scoring and would set a team record with 5 points in a single game (1-25-78 vs Cinn). The 1978-79 season would be the last for the WHA. Mark would end his career with the most career playoff points of any player and scored 7 career regular season hattricks along the way.


Mark moved with his father and brother
to New England to play with the Whalers
Playing with his 1st NHL team, Hartford,
Mark suffered an almost fatal injury when
he became impaled on a net

In 1979-80, the WHA merged with the NHL. Boston had drafted Mark in 1974, but the Hartford Whalers (the new name of the New England franchise), was allowed to protect two players in the merger and used one of these selections to reclaim Mark. The merger allowed Mark to play with his father in his last NHL season. The 1980-81 season proved to be a turning point for Mark. He would eventually be named as the Budwesier cup winner as best Hartford defenseman. He also became the 1st d-man in NHL history to get 2 shorthanded goals in one period (Oct-8-80 at St.Louis). At the mid-season all-star game Mark got the most votes among all Wales Conference defensemen. But this season was most significant for a single episode that took place on December 27th, 1980. While fighting for the puck, his own net became dislodged. Mark fell on the net and suffered a 5 inch puncture wound. He lost 35 pounds and his stimina suffered after requiring liquid diet to avoid intenstinal infections. The next season Mark was still in the recovery process put the Whalers management considered him as damaged goods and felt his physical complaints were effecting the team and decided to try and move him.

Just prior to the 1982-83 season the Flyers made a huge trade - Ken Linseman, Greg Adams and a 1st and 3rd round draft pick to Hartford for Mark and a 3rd rounder. The Flyers GM Keith Allen thougt he might be defensive liability but former Flyer Ed Van Impe tutored Mark and he became Flyers best d-man on both ends of the ice. Mark would make the mid-season all star game that first season. At the end of the year Mark ended 5th in Hart voting, 7th in Lady Byng voting and 2nd in voting for the Norris trophy to Rod Langway (despite getting more votes than Langway for the post season all star team). Mark probably should have won the Norris that year. But there was a backlash against offensive defensemen always winning the Norris trophy (mainly due to the one dimensional play of Paul Coffey).


Mark was traded from Hartford to
Philly and became an all-star

Mark's stellar play would earn him the title as
the greatest Flyer defenseman ever


The 1984-85 season saw another all-star game appearence for Mark but it would be the following season that would be his career year. In 1985-86, Howe set team records for goals (24), assists (58) and points (82) by defenseman. He was named as the Clarke trophy winner as team MVP. He was once again the Norris trophy runner up and named to the 1st team all-star. He would also lead the entire NHL in plus-minus with a +85 (which is a team record that still stands today). The '86-'87 season was another standout for Mark - 2nd in the NHL with a +57, another 1st team all-star selection and Norris Trophy runner-up as the Flyers came within one game of the Stanley cup. He would also achieve two career milestones that year : his 100th pro point (including the WHA) on Jan 21st 1987 at Chicago and his 500th NHL point on March 3rd 1987 vs Buffalo. But it was also this season that Mark started to develop back problems.
The back problems first forced Mark to miss the 1987 Rendezvous series which pited the NHL star vs the Soviets. And unfortunately these same back problems would hamper the remainder of Mark's playing days. In 1991 Mark had a broken thumb which sidelined him for two months and had back surgery and was told not to play anymore as doctors feared for his health. Howe persisted and signed as a freee agent with the Detroit Red Wings, helping to solidify a young blueline. He had one more Stanley Cup fianls appearance with the Wings in 1995, but once against fell just short. On September 27th, 1995 Mark retired from hockey. Mark joined the Red Wings front office staff in a newly created position of assistant to the hockey department. He works scout and helps with the Wings minor-league defensemen.


Mark would end his career in the
city where he grew up, with the Wings

Even though Mark finished his career with the Wings he will always be remember by Flyers fans for a different reason. He holds practically every single season and career scoring record for Flyers defensemen and will be remember as the greatest defenseman ever to wear the orange and black.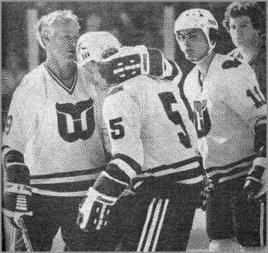 Mark is congratulated by father Gordie
for his 1st NHL goal



| | | | | | | | | | | | | |
| --- | --- | --- | --- | --- | --- | --- | --- | --- | --- | --- | --- | --- |
| Year | GP | G | A | Pts | PIM | +/- | PP | SH | GW | GT | Sht | Sh% |
| 1982-83 | 76 | 20 | 47 | 67 | 18 | 47 | 5 | 5 | 4 | 1 | 219 | 9.13 |
| 1983-84 | 71 | 19 | 34 | 53 | 44 | 30 | 3 | 3 | 2 | 1 | 184 | 10.33 |
| 1984-85 | 73 | 18 | 39 | 57 | 31 | 51 | 3 | 2 | 1 | 0 | 213 | 8.45 |
| 1985-86 | 77 | 24 | 58 | 82 | 36 | 85 | 4 | 7 | 3 | 0 | 193 | 12.44 |
| 1986-87 | 69 | 15 | 43 | 58 | 37 | 57 | 2 | 4 | 0 | 0 | 148 | 10.14 |
| 1987-88 | 75 | 19 | 43 | 62 | 62 | 23 | 8 | 1 | 4 | 0 | 177 | 10.73 |
| 1988-89 | 52 | 9 | 29 | 38 | 45 | 7 | 5 | 1 | 1 | 0 | 95 | 9.47 |
| 1989-90 | 40 | 7 | 21 | 28 | 24 | 22 | 3 | 1 | 1 | 0 | 63 | 11.11 |
| 1990-91 | 19 | 0 | 10 | 10 | 8 | 9 | 0 | 0 | 0 | 0 | 40 | 0 |
| 1991-92 | 42 | 7 | 18 | 25 | 18 | 18 | 6 | 0 | 0 | 0 | 63 | 11.11 |
| TOTAL | 594 | 138 | 342 | 480 | 323 | 349 | 39 | 24 | 16 | 2 | 1395 | 9.89 |

| | | | | | | | | | | | | |
| --- | --- | --- | --- | --- | --- | --- | --- | --- | --- | --- | --- | --- |
| Year | GP | G | A | Pts | PIM | +/- | PP | SH | GW | OT | Sht | Sh% |
| 1983P | 3 | 0 | 2 | 2 | 4 | -3 | 0 | 0 | 0 | 0 | | |
| 1984P | 3 | 0 | 0 | 0 | 2 | 0 | 0 | 0 | 0 | 0 | 10 | 0.00 |
| 1985P | 19 | 3 | 8 | 11 | 6 | 11 | 1 | 0 | 1 | 1 | 46 | 6.52 |
| 1986P | 5 | 0 | 4 | 4 | 0 | 0 | 0 | 0 | 0 | 0 | 16 | 0.00 |
| 1987P | 26 | 2 | 10 | 12 | 4 | 14 | 0 | 0 | 0 | 0 | 67 | 2.99 |
| 1988P | 7 | 3 | 6 | 9 | 4 | 7 | 0 | 0 | 0 | 0 | 16 | 18.75 |
| 1989P | 19 | 0 | 15 | 15 | 10 | 14 | 0 | 0 | 0 | 0 | 33 | 0.00 |
| TOTAL | 82 | 8 | 45 | 53 | 30 | 43 | 1 | 0 | 1 | 1 | 188 | 4.26 |

| | |
| --- | --- |
| Season | Award |
| 1982-83 | Barry Ashbee Trophy : Best Defenseman |
| 1982-83 | Yanick Dupre Memorial : Class Guy |
| 1985-86 | Barry Ashbee Trophy : Best Defenseman |
| 1985-86 | Bobby Clarke Trophy : Team MVP |
| 1986-87 | Barry Ashbee Trophy : Best Defenseman |
| 1987-88 | Barry Ashbee Trophy : Best Defenseman |

---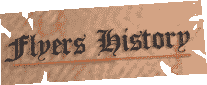 Copyright 1998-2008 - P.Anson