Hall Of Fame Profile
Brian Propp

Induction into Flyer Hall Of Fame - March 1999

Brian Propp's 80-81 Rookie Card

Brian's Propp quiet consistency was a mainstay on the Flyers for the 1980's. He was a part of each of the 3 Stanley Cup finalists during the decade. He was a complete hockey player whose 369 goals rank second on the Flyer's alltime list.

Propp in his junior days with
the Brandon Wheat Kings

Propp's junior days as a Brandon Wheat King were prolific. In 3 seasons he had 219 goals and 511 points> These ranked as alltime marks when he left (which were later beaten by Rob Brown). In his first year as a junior he lead the WHL in playoff goals. In the second year he lead in assists and scoring. In the third year he lead in goals, assists and points. During that last year he had 94 goals and 100 assists. His line, with Laurie Boschman and former Flyer Ray Allison, had an incredible 200 goals. He was recently named , along with Bobby Clarke, on the alltime WHL team. You'd think with marks like these, he's be one of the first draft picks. But some scouts felt Brian was one dimensional. The Flyers couldn't believe their luck when Propp was still available when they picked Brian 14th overall in 1979. Brian would prove he was far from a one dimensional player.
| | |
| --- | --- |
| In Brian's first regular season game on October 11th 1979 , he would score the game winner in a 5-2 victory over the Islanders. Game winning goals would become Brian's specialty - leading the league a few seasons and becoming the Flyers all time leader in game winning career goals with 55. He would play his first few seasons on a line with Ken Linseman and Paul Holmgren. The Flyers would end up with a 35 game unbeaten streak that first year, thanks in part to the excellent play of their rookie left winger. Brian set then-records for goals, assists and points for a Flyer rookie, and would be the NHL rookie scoring leader. When it would come time for announcing the Calder winner, a Boston defenseman by the name of Ray Bourque would be the winner. The Flyers had another rookie that year, goalie Pete Peeters, that would actually end up higher in the Calder voting than Propp, splitting the Flyer vote. | Propp as a rookie |
| | |
| --- | --- |
| Propp was the model of consistancy | The next year Propp developed other areas of the game, doubling his penalty minutes and showing he wasn't afraid of the corners. But he still was producing offensively, a 14 game point scoring streak. The following year, in 1981-82 Propp was placed on the "Hi Speed Line" with former junior linemate Ray Allison and Ron Flockhart, scoring his 100th career goal against Calgary. The next couple of seasons saw early playoff exits and Propp took some of the blame. When the Flyers reached the finals in 1984-85 Brian slumped badly in the finals and more questions about Brian's playoff performances were heard. But Propp consistently put up impressive numbers, getting about 40 goals and 50 assists year after year. In 1985-86, Propp was 2nd in fan voting for the all-star game, with Michel Goulet beating Propp by under 1500 votes. In that all-star game Propp scored 2 goals. |
1986-87 would however prove to be Propp's career year. Brian started off with 41 points in his first 27 games. He tied a team record with 4 goals against St.Louis on December 2nd, 1986. But then he required surgery on his left knee which forced him to miss 27 games. But this year when the playoffs started all whispers of Propp's past playoff failures would go away. Propp would end up with 28 playoff points, more than any other Flyer ever had, or has had since. In game 5 of the finals, Brian tied a team record with 4 assists. In game 6 he would score the game tying goal against the heavily favoured Edmonton Oilers. The Flyers won that game but unfortunately lost game 7 in Edmonton. With his outstanding work, Brian was named later that year to Team Canada for the Canada Cup tournament. Because of the few early playoff exists earlier in the decade, Brian played for Canada in several world championships. But for the Canada Cup tournament all the best players in the world would play and Brian showed he belonged. In the deciding game against the Russians with Canada down by a goal Propp would score a goal that tied the game. A few minutes Mario Lemieux would score the famous goal that would win it for Canada.

Brian's playoffs would help the Flyers
to get within 1 game of the Stanley Cup
| | |
| --- | --- |
| Propp as a North Star | On March 2nd, 1990 the Flyers would send Brian to the Bruins for a 2nd round choice. He would help the Bruins make it to the finals. In the mean time Bobby Clarke would be fired by the Flyers and signed on as GM of the Minnesota North Stars. Clarke signed on Propp and he once again helped his make the finals. That would make 5 Stanley Cup finals for Brian, with all of them falling short. Even though Propp wouldn't play for the Flyers again, there would be two Flyer memories left. On October 24th 1991 he would score his 400th career goal in a game against the Flyers and then on March 19th, 1994 he would get his 1000th career with a goal in a 5-3 Hartford win against his old team as a member of the Hartford Whalers, ending up with 1004 in his career. |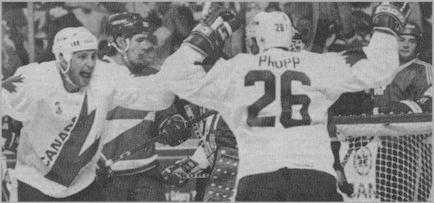 Brent Sutter celebrates Brian Propp's
goal that tied Russians in the Canada Cup


| | | | | | | | | | | | | |
| --- | --- | --- | --- | --- | --- | --- | --- | --- | --- | --- | --- | --- |
| Year | GP | G | A | Pts | PIM | +/- | PP | SH | GW | GT | Sht | Sh% |
| 1979-80 | 80 | 34 | 41 | 75 | 54 | 45 | 4 | 0 | 3 | 1 | 209 | 16.27 |
| 1980-81 | 79 | 26 | 40 | 66 | 110 | 27 | 6 | 0 | 5 | 3 | 194 | 13.4 |
| 1981-82 | 80 | 44 | 47 | 91 | 117 | 19 | 13 | 0 | 6 | 2 | 290 | 15.17 |
| 1982-83 | 80 | 40 | 42 | 82 | 72 | 35 | 13 | 1 | 12 | 0 | 250 | 16 |
| 1983-84 | 79 | 39 | 53 | 92 | 37 | 49 | 11 | 1 | 4 | 2 | 301 | 12.96 |
| 1984-85 | 76 | 43 | 54 | 97 | 43 | 46 | 12 | 7 | 4 | 0 | 258 | 16.67 |
| 1985-86 | 72 | 40 | 57 | 97 | 47 | 24 | 11 | 2 | 5 | 0 | 317 | 12.62 |
| 1986-87 | 53 | 31 | 36 | 67 | 45 | 39 | 8 | 5 | 5 | 0 | 208 | 14.9 |
| 1987-88 | 74 | 27 | 49 | 76 | 76 | 8 | 7 | 2 | 6 | 0 | 257 | 10.51 |
| 1988-89 | 77 | 32 | 46 | 78 | 37 | 16 | 13 | 2 | 5 | 1 | 245 | 13.06 |
| 1989-90 | 40 | 13 | 15 | 28 | 31 | 3 | 5 | 0 | 0 | 0 | 108 | 12.04 |
| TOTAL | 790 | 369 | 480 | 849 | 669 | 311 | 103 | 20 | 55 | 9 | 2637 | 13.99 |

| | | | | | | | | | | | | |
| --- | --- | --- | --- | --- | --- | --- | --- | --- | --- | --- | --- | --- |
| Year | GP | G | A | Pts | PIM | +/- | PP | SH | GW | OT | Sht | Sh% |
| 1980P | 19 | 5 | 10 | 15 | 29 | | 8 | 0 | 0 | 0 | | |
| 1981P | 12 | 6 | 6 | 12 | 32 | | 0 | 0 | 0 | 0 | | |
| 1982P | 4 | 2 | 2 | 4 | 4 | | 0 | 0 | 1 | 0 | | |
| 1983P | 3 | 1 | 2 | 3 | 8 | -4 | 1 | 0 | 0 | 0 | | |
| 1984P | 3 | 0 | 1 | 1 | 6 | -4 | 0 | 0 | 0 | 0 | 6 | 0.00 |
| 1985P | 19 | 8 | 10 | 18 | 6 | 2 | 4 | 1 | 2 | 0 | 62 | 12.90 |
| 1986P | 5 | 0 | 2 | 2 | 4 | -2 | 0 | 0 | 0 | 0 | 12 | 0.00 |
| 1987P | 26 | 12 | 16 | 28 | 10 | 11 | 5 | 1 | 3 | 0 | 104 | 11.54 |
| 1988P | 7 | 4 | 2 | 6 | 8 | 2 | 0 | 0 | 0 | 0 | 31 | 12.90 |
| 1989P | 18 | 14 | 9 | 23 | 14 | 8 | 5 | 1 | 1 | 0 | 52 | 26.92 |
| TOTAL | 116 | 52 | 60 | 112 | 121 | 13 | 23 | 3 | 7 | 0 | 267 | 19.48 |


---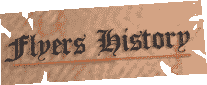 Copyright 1998-2008 - P.Anson