Hall Of Fame Profile
Tim Kerr

Induction into Flyer Hall Of Fame - March 1994

Tim Kerr's 81-82 Rookie Card

Courage. No player in Flyers history and maybe sports history has shown as much courage as Tim Kerr. Whether it has been the courage to come back after injury upon injury or courage to comeback after a devastating personal loss, Tim Kerr has shown himself as a man of perseverance and dignity and became on of the Flyers greatest goal scorers.

| | |
| --- | --- |
| Kerr in his junior days | Tim was born January 5th, 1960 in Windsor, Ontario. He was never a *great* hockey player as a kid but because of his large size was always placed in an older age bracket (he was already 6' and 210 lbs. at the age of 14). Playing juniors in Kingston, Tim went unselected in the 1979 entry draft, largely because the draft was limited to just 6 rounds and at the time, Kerr was considered "gangly", scoring just 15 goals in his first year of juniors. Flyers scout Eric Colville saw something special in Tim - but so did the Detroit Red Wings. Detroit was just over the border from Tim's hometown (and was his boyhood's favorite team). Detroit would have also been an easier team to make, but thankfully Colville and a $10,000 signing bonus convinced Kerr to sign with the Flyers. |
| | |
| --- | --- |
| Kerr wasn't suppose to make the team for the 1980-81 season, but a preseason injury to Ken Linseman changed all that. As a replacement for the injured Ken Linsemen on "Rat Patrol" line with Propp & Holmgren, Kerr scored 22 goals during his rookie year. Late that rookie year his parents made a trip to see their son play the first time in an NHL game. Tim didn't disappoint, scoring his first NHL hattrick on March 19th 1981 in a 5-3 win over Boston. His second year saw pretty similar results with another 20 goals season. During that second year Kerr had a seven game scoring streak. Each of those first two years he led the Flyers in shooting percentage. | Kerr in his 2nd year |
Tim had 4 consecutive
50 goals seasons

But then during the third year saw more of what would plague Kerr during his entire career - injuries. During Tim's first three years he missed a total of 87 games due to a variety of injuries (shoulder, lower back, hernia, broken right leg, impacted wisdom teeth). Surgery on his right knee forced Kerr to miss 37 games in '82-'83 during a season where he played in only 24 games. But Kerr's dedication and perseverance would pay of for Tim Kerr and the Flyers during the following season.
1983-84 proved to be the breakout season for Kerr, as he became the 4th different player to score 50 goals for the Flyers in a single season (getting a total of 54). During that season Kerr would be selected to the mid-season all-star game, getting 1 assist. The following season saw Kerr match those 54 goals and getting what would be a career high 98 points. During that 84-85 season Kerr would have an amazing total of 3 games where he would score 4 goals (which is a regular season Flyers record). Kerr had already developed an ability to get away quick hard shots while having opponents draped all over him. But in '84-'85 Kerr started to show an knack that would get him in the record book - scoring power play goals. During that year, Kerr would almost double his career output, as he led the entire NHL with 21 powerplay goals. When the playoffs started, Kerr continued scoring, particularly during on memorable night. On April 13th 1985 Kerr set NHL records with the fastest 4 goals (8:16) and most goals in one playoff period (4), as the Flyers won the game 6-5, sweeping the Rangers. However injuries once again hampered Kerr. Kerr got injured during the first game of the semifinals against Quebec, straining his right knee. The Flyers did manage to make it past Quebec and into the finals, but with Kerr out for two of the games the Oilers defeated the Flyers 4 games to 1.

Kerr had record setting playoff
performance vs Rangers
Kerrs record goal scoring got him
on the cover of the Hockey News

With Kerr's performance, the Flyers rewarded him with a $200,000 contract. He was named starting RW at the 85-86 all-star game and ended the season with 58 goals, becoming the first Flyer to have 3 fifty-goal seasons. That year saw Kerr get an NHL record 34 powerplay goals – a record that still stands today. There are not many people that can saw they hold a single scoring record without their name being Wayne Gretzky - Tim Kerr is once such man. The following season saw yet another 58 goal season. During that year Kerr led the NHL once again in powerplay goal (26), was second in goals and would be named to the second all-star team. Unfortunately an injury would once again hit Tim. This time a severe shoulder injury would force Kerr to miss the team's final 14 playoff games. Even without Kerr the Flyers managed to force Edmonton to a seventh game in the Stanley Cup finals before losing. One can only imagine another Stanley Cup banner if another Kerr had remained healthy.
That shoulder injury would limit Kerr to only 8 games for the '87-'88 season. But through hard work and determination Kerr would come back strong in the '88-'89 season, scoring 48 goals in 69 games. Only a broken thumb stopped Kerr from scoring another 50 goals. Kerr's hard work won the admiration of all, winning Tim the Bill Masterton trophy for dedication to the game. Like a broken record, Kerr had yet more shoulder injuries during the 1989-90 season which limited Tim to 40 games and 24 goals. But little was in comparison to the tragedy that happened when Tim's wife Kathy passed away after complications arose after delivering their 3rd child. Despite his loss and yet more injuries, Tim had the courage to go on, playing 27 games in what would be his last year with the Flyers, scoring 10 more goals.

Injuries limit Kerr to just
8 games in '87-'88
Tim in his last year
in a Hartford jersey

Expansion hit the NHL for the 1991-92 season and the Flyers gambled, leaving the injury prone Kerr unprotected. The Rangers had made a side deal with the expansion San Jose Sharks. The Sharks selected Kerr then promptly traded him to New York for a second round choice. The Rangers had a woeful powerplay and hoped Kerr would assist. But on October 5th of the year during the Rangers 5th game of the year, Kerr suffered yet another shoulder injury, and ended up playing just 32 games. Kerr ended up his career in 1992-93 with the Hartford Whalers, playing just 22 games failing to score. Tim is 3rd on the alltime Flyers goal scoring list with 363 (the best for any right winger), first (by more than 40 goals) in powerplay goals with 145, has the best career shooting percentage of any player with at least 15 goals (19.44 %), and has more career hattricks (17) and 4 goals games (4) of any player in team history. His goals per game average trail only Lemieux, Gretzky, Bossy and Brett and Bobby Hull on the NHL's all time scoring list. Tim will not only be always remembered as a great goal scorer but also as a great man. Currently Tim works in the aptly named "Powerplay Realty". You can visit his home page by clicking here - Tim Kerr's Powerplay Realty Page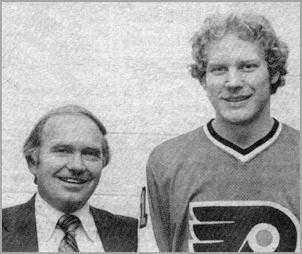 Kerr with his agent the day he signed with the Flyers



| | | | | | | | | | | | | |
| --- | --- | --- | --- | --- | --- | --- | --- | --- | --- | --- | --- | --- |
| Year | GP | G | A | Pts | PIM | +/- | PP | SH | GW | GT | Sht | Sh% |
| 1980-81 | 68 | 22 | 23 | 45 | 84 | 3 | 6 | 0 | 7 | 1 | 95 | 23.16 |
| 1981-82 | 61 | 21 | 30 | 51 | 138 | 6 | 7 | 0 | 2 | 0 | 118 | 17.8 |
| 1982-83 | 24 | 11 | 8 | 19 | 6 | 4 | 0 | 0 | 1 | 0 | 49 | 22.45 |
| 1983-84 | 79 | 54 | 39 | 93 | 29 | 30 | 9 | 0 | 5 | 1 | 286 | 18.88 |
| 1984-85 | 74 | 54 | 44 | 98 | 57 | 29 | 21 | 0 | 9 | 2 | 267 | 20.22 |
| 1985-86 | 76 | 58 | 26 | 84 | 79 | -5 | 34 | 0 | 8 | 0 | 285 | 20.35 |
| 1986-87 | 75 | 58 | 37 | 95 | 57 | 38 | 26 | 0 | 10 | 0 | 261 | 22.22 |
| 1987-88 | 8 | 3 | 2 | 5 | 12 | 0 | 2 | 0 | 0 | 0 | 34 | 8.82 |
| 1988-89 | 69 | 48 | 40 | 88 | 73 | -4 | 25 | 0 | 2 | 1 | 236 | 20.34 |
| 1989-90 | 40 | 24 | 24 | 48 | 34 | -3 | 9 | 0 | 2 | 2 | 162 | 14.81 |
| 1990-91 | 27 | 10 | 14 | 24 | 8 | -8 | 6 | 0 | 0 | 0 | 74 | 13.51 |
| TOTAL | 601 | 363 | 287 | 650 | 577 | 90 | 145 | 0 | 46 | 7 | 1867 | 19.44 |

| | | | | | | | | | | | | |
| --- | --- | --- | --- | --- | --- | --- | --- | --- | --- | --- | --- | --- |
| Year | GP | G | A | Pts | PIM | +/- | PP | SH | GW | OT | Sht | Sh% |
| 1981P | 10 | 1 | 3 | 4 | 2 | | 1 | 0 | 0 | 0 | | |
| 1982P | 4 | 0 | 2 | 2 | 2 | | 0 | 0 | 0 | 0 | | |
| 1983P | 2 | 2 | 0 | 2 | 0 | 0 | 0 | 0 | 0 | 0 | | |
| 1984P | 3 | 0 | 0 | 0 | 0 | -4 | 0 | 0 | 0 | 0 | 6 | 0.00 |
| 1985P | 12 | 10 | 4 | 14 | 13 | 7 | 4 | 0 | 1 | 0 | 42 | 23.81 |
| 1986P | 5 | 3 | 3 | 6 | 8 | -2 | 1 | 0 | 0 | 0 | 22 | 13.64 |
| 1987P | 12 | 8 | 5 | 13 | 2 | 3 | 5 | 0 | 3 | 0 | 41 | 19.51 |
| 1988P | 6 | 1 | 3 | 4 | 4 | -2 | 1 | 0 | 0 | 0 | 10 | 10.00 |
| 1989P | 19 | 14 | 11 | 25 | 27 | 1 | 8 | 0 | 2 | 0 | 54 | 25.93 |
| TOTAL | 73 | 39 | 31 | 70 | 58 | 3 | 20 | 0 | 6 | 0 | 175 | 22.29 |

| | |
| --- | --- |
| Season | Award |
| 1988-89 | Bill Masterton : Dedication |
| 1986-87 | 2nd Team : Right Wing |

| | | |
| --- | --- | --- |
| Date | Scorer | Score |
| 22-Mar-84 | Tim Kerr : 50th Goal | Pit 4 - Phi 13 |
| 7-Mar-85 | Tim Kerr : 50th Goal | Wash 6 - Phi 9 |
| 20-Mar-86 | Tim Kerr : 50th Goal | Pit 1 - Phi 5 |
| 17-Mar-87 | Tim Kerr : 50th Goal | NYR 1 - Phi 4 |
---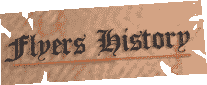 Copyright 1998-2008 - P.Anson