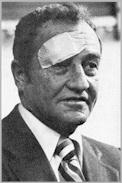 It's not what you think -
Shero just got hit by the puck
while he was behind the bench
Shero, the man, remained a mystery to his team. But his players did know that he dedicated his life to the team and to winning. For that his players committed themselves to him. Under Shero the players developed an attitude that when an opposing player challenged one, he challenged all. Shero preached hard work and courage. "Nobody on our team missed practice in two years, not even the ones injured", Shero claimed in 1975. "they don't want to miss the laughs. I don't think that you can instruct anyone unless you amuse them first" Shero realized that with professional athletes you had to keep them interested to keep them practicing. To vary things Shero would have the Flyers practice with tennis balls instead of pucks. At other times he would have them undergoing the same training exercises that NASA used to train astronauts. Not only were these techniques unique, they worked. "I've learned more in Philadelphia in three years then I would have learned anywhere else in eight, and it's all because of Fred", Bill Barber claimed. Along the way, Shero became the first coach to start a morning skate - something every NHL team now does.