Hall Of Fame Profile
Rick MacLeish

Induction into Flyer Hall Of Fame - March 1990

Rick MacLeish's 71-72 Rookie Card

Rick MacLeish would never be considered a bully on the Broad Street Bullies, but his importance to the team was immeasurable. He fluid style and incredible wrist shot made him a fan favorite. He was the leading playoff scorer during both of the Flyers successful cup runs and scored the Stanley Cup winning goal in 1974.

| | |
| --- | --- |
| Rick in his 2nd year vs the Hawks | The Flyers first ever trade saw them dealing their first pick in 1970 to Boston for Rosaire Paiment. Meanwhile Rick was playing junior in Peterbough under coach Roger Neilson. He was scoring goals by the bucket full and made first team all-star in his last year as a junior. With the pick Boston obtained, they selected Rick. The major problem the Flyers were having in their early years was scoring goals and they coveted the goal scoring MacLeish. When they saw him go to Boston with the pick they dealt away they felt awful. Keith Allen had taken over as GM from the Flyers first GM, Bud Poile. In one the early deals in Allen's tenure he pulled off a three team blockbuster. The Flyers had two competent goalies, Bernie Parent and Doug Favell and they traded what they had in excess for something they needed. The major acquisitions saw Parent go to Toronto and Bruce Gamble along with Rick MacLeish go to Philadelphia. Things did not go too well for Rick during his first pro year. With Boston's farm team, the Oklahoma-City Blazers, he got only 13 goals and 15 assists in 46 games. Then in 26 games with the Flyers he only got 2 goals and 4 assists. Fans got angered at seeing a favorite in Parent leaving and Rick's slow start made things even worse. His second year didn't prove to be too much better. After getting only 1 goal in 17 games, he was sent to minors (Richmond). There he worked on all aspects of game-checking, hitting and scoring - and got 24 goals in 42 games. |
Rick's turnaround was complete the following season (1972/73). He credited a switch to center from left wing for his success, and a good reason for that was having Bill Barber and Gary Dornhoefer as linemates. Success came early that year having scored 17 goals in his first 29 games. Then on March 7th, 1973, Rick set a then team record 7 points in a game against the Leafs. Rick lead the entire league with 21 powerplay goals. More impressively he became the first player from an expansion team and the youngest ever player (at that time) to score 50 goals. On top of that he had 50 assists making it an even 100 point season. Unfortunately for the Flyers Rick got injured in the playoffs, missing two games in the semi-final series against Montreal, which they ended up losing in 5 games, but not before Rick scored the game winner in overtime in the first game of that series.

Rick scores OT winner in 1st
Game of '73 Semifinals against
Montreal Canadiens goalie Ken Dryden
Rick earned that patch, leading the
NHL in playoff scoring in '74 and '75

Despite the success, Rick suffered from a lack of self-confidence. He saw his totals slip a bit, to "just" 32 goals and 77 points, but when the playoffs started Rick turned it up a notch. In 17 playoff games he scored 13 goals and had 22 points, leading the entire NHL. But none of those goals was bigger than the one he scored May 19th 1974. In fact there hasn't been a bigger goal in team history. The finals stood at 3 game to 2 in the Flyers favour. With about 5 minutes left in the first period there was a faceoff deep in the Bruins end. MacLeish won the draw to Andre Dupont. Dupont sent in a shot towards the Bruins net which MacLeish tipped past Bruin's goal Gilles Gilbert. The red light went on and the Spectrum went wild. Thanks to the goaltending of Bernie Parent (who was reobtained at the beginning of the year), that turned out as the only goal of the game and the Flyers won their first Stanley Cup. The next year saw similar results - 38 goals and 79 points in the regular season and a league leading 20 points in the playoffs - which resulted in another Stanley Cup.
Then the injury bug started to bite Rick. In 1975-76 he had torn knee ligaments which caused him to miss the playoffs. Without their leading playoff scorer and their MVP goalie Bernie Parent, the Flyers fell to Montreal in the finals. The 1976-77 season saw Rick return to form. He has 49 goals and 97 points, leading the team in both categories. Again, he continued to perform in the playoffs with 13 points in just 10 games. But after the playoffs were done Rick got in a serious car crash, and was in a body cast for several weeks. Somehow Rick missed only 4 games the following season...but none of them were due to the accident. In a game against the Kings, Marcel Dionne's skate gashed his neck and almost killed him. Rick required needed 80 stitches to close the gash. Yet all he missed were those 4 games.

A little blood was the minor compared
to some injuries in Rick's career
MacLeish shortly before being
traded to Hartford

In 1978-79 Rick tied teammate Bill Barber for the NHL lead with 5 shorthanded goals , but he had a disappointing 58 points. For the next 4 seasons trade rumours swirled around Rick. Rick played solidly for the team during it's 35 game unbeaten streak in 1979-80, as well as the following season, getting 38 goals in 1980-81. But during the 1981 off season the Flyers finally traded Rick MacLeish in a huge multiplayer deal to the Hartford Whalers. Rick MacLeish, Blake Wesley, Don Gillen and 3 picks went to Hartford for Ray Allison, Fred Arthur and 2 draft choices used to pick Ron Sutter and Miroslav Dvorak. Half way during the year Rick was sent to Pittsburgh and he ended up with only a total of 19 goals for the year.
Rick only played 6 games the following year getting no goals and 5 assists. MacLeish's career looked over. He asked if he could attend training camp in 1983 with the Flyers and was half heartedly accepted. But MacLeish surprised the Flyers in training camp, getting 5 points in 7 preseason games. He signed a 40 game contract and got 22 points in 29 games. Suprisingly he was traded Detroit for future considerations. He played 25 games with the Wings and then retired. Rick shares the alltime Flyer lead with Bill Barber with 53 playoff goals and stands 4th with 105 playoff points. Rick also has the team record for playoff powerplay goals (21) and playoff game winning goals (11). His 328 regular season goals stands 5th and his 697 points stands 4th on the alltime Flyer list.

Rick MacLeish - the Flyers' first
50 goal scorer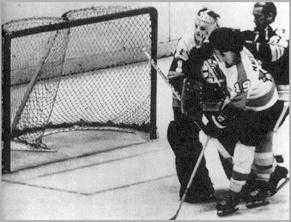 The biggest goal in MacLeish's career and in Flyers History -
The Stanley Cup Winning Goal - May 19th, 1974


| | | | | | | | | | | | | |
| --- | --- | --- | --- | --- | --- | --- | --- | --- | --- | --- | --- | --- |
| Year | GP | G | A | Pts | PIM | +/- | PP | SH | GW | GT | Sht | Sh% |
| 1970-71 | 26 | 2 | 4 | 6 | 19 | -4 | 0 | 0 | 0 | 0 | 54 | 3.7 |
| 1971-72 | 17 | 1 | 2 | 3 | 9 | -9 | 0 | 0 | 0 | 0 | 37 | 2.7 |
| 1972-73 | 78 | 50 | 50 | 100 | 69 | 15 | 21 | 2 | 6 | 1 | 279 | 17.92 |
| 1973-74 | 78 | 32 | 45 | 77 | 42 | 21 | 13 | 4 | 5 | 1 | 270 | 11.85 |
| 1974-75 | 80 | 38 | 41 | 79 | 50 | 29 | 11 | 3 | 8 | 1 | 309 | 12.3 |
| 1975-76 | 51 | 22 | 23 | 45 | 16 | 6 | 6 | 1 | 4 | 0 | 222 | 9.91 |
| 1976-77 | 79 | 49 | 48 | 97 | 42 | 46 | 10 | 1 | 8 | 2 | 252 | 19.44 |
| 1977-78 | 76 | 31 | 39 | 70 | 33 | 24 | 7 | 2 | 7 | 4 | 253 | 12.25 |
| 1978-79 | 71 | 26 | 32 | 58 | 47 | 4 | 7 | 5 | 4 | 0 | 211 | 12.32 |
| 1979-80 | 78 | 31 | 35 | 66 | 28 | 23 | 6 | 3 | 4 | 4 | 234 | 13.25 |
| 1980-81 | 78 | 38 | 36 | 74 | 25 | 22 | 14 | 0 | 3 | 0 | 214 | 17.76 |
| 1983-84 | 29 | 8 | 14 | 22 | 4 | 4 | 3 | 0 | 2 | 0 | 70 | 11.43 |
| TOTAL | 741 | 328 | 369 | 697 | 384 | 181 | 98 | 21 | 51 | 13 | 2405 | 13.64 |

| | | | | | | | | | | | | |
| --- | --- | --- | --- | --- | --- | --- | --- | --- | --- | --- | --- | --- |
| Year | GP | G | A | Pts | PIM | +/- | PP | SH | GW | OT | Sht | Sh% |
| 1971P | 4 | 1 | 0 | 1 | 0 | | 0 | 0 | 0 | 0 | | |
| 1973P | 10 | 3 | 4 | 7 | 2 | | 2 | 0 | 1 | 1 | | |
| 1974P | 17 | 13 | 9 | 22 | 20 | | 8 | 0 | 4 | 0 | | |
| 1975P | 17 | 11 | 9 | 20 | 8 | | 8 | 0 | 1 | 0 | | |
| 1977P | 10 | 4 | 9 | 13 | 2 | | 2 | 0 | 1 | 1 | | |
| 1978P | 12 | 7 | 9 | 16 | 4 | | 8 | 0 | 3 | 0 | | |
| 1979P | 7 | 0 | 1 | 1 | 0 | | 0 | 0 | 0 | 0 | | |
| 1980P | 19 | 9 | 6 | 15 | 2 | | 1 | 0 | 1 | 0 | | |
| 1981P | 12 | 5 | 5 | 10 | 0 | | 8 | 0 | 0 | 0 | | |
| TOTAL | 108 | 53 | 52 | 105 | 38 | 0 | 37 | 0 | 11 | 2 | 0 | |


| | | |
| --- | --- | --- |
| Date | Scorer | Score |
| 1-Apr-73 | Rick MacLeish : 50th Goal | Phil 4 - Pit 5 |
| 1-Apr-73 | Rick MacLeish : 100th Point | Phi 4 - Pit 5 |
---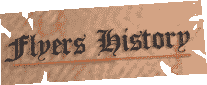 Copyright 1998-2008 - P.Anson