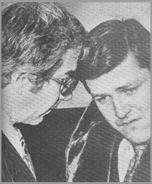 Ed consoles Bernie Parent
after being traded to the Leafs
Ed's passion of the team grew from the team's early days. Often he would be the only person to greet the team at the airport at the early hours of the morning. One story has Ed taking a Maine vacation. With no phone, radio or TV available, Snider couldn't bear not knowing how his team was playing so he drove non-stop so he could catch the end of one home game. Snider is also responsible for what would become of the Flyers image. After being pushed around and eliminated for the second straight year by the St.Louis Blues in 1969, Snider vowed the Flyers would never be pushed around again. It wouldn't take long for those words to become true. Snider's passion and devotion finally paid off in 1974 and 75 as the Flyers became the first expansion team to win the Stanley Cup.