Hall Of Fame Profile
Bobby Clarke

Induction into Flyer Hall Of Fame - March 1988

Induction into Hockey Hall Of Fame - June 1987

Bobby Clarke's 70-71 Rookie Card

When compiling a list of greatest leaders in sports history, Clarke's name would have to be included. Overcoming diabeties, Clarke lead the first expansion championship team. Although never the most skilled player, Clarke's tireless work ethic made him the most valuable player. In 1975 when the Flyers were battling the Sabres for the Cup, a reporter asked Sabres GM which player in the league he'd like to ask most. He replied, "If you want to put fans in the stands, I'd take Gilbert Perrault. But if you want to win, take Clarke"

Clarke with the
Flin Flon Bombers

Bobby Clarke was born August 13, 1949 in Flin Flon Manitoba, a mining town in northern Manitoba. This mining town atmosphere instilled a strong work ethic in Bobby. His dream was to play for the local junior team - the Flin Flon Bombers. In 1967-68 he did just that, scoring 51 goals and getting 168 points in 59 games. The next season was going well too, but whispers of his diabetic condition spread a mongst NHL scouts. His junior coach, Pat Ginnell, helped to get Bobby to the Mayo clinic where a battery of tests showed that Clarke could maintain the rigours of pro life if he watched his health. In a town where the closest opponent was 500 miles away and a 10 hour bus trip, Clarke scored 51 goals and 137 points in just 58 games. But also his leadership qualities began to show. When some teammates began goofing off he went to them and said "I wanna play hockey for a living and you guys are hurting me and the team by not working hard, so shaped up !". His point totals were enough in Clarke last two season to win the scoring titles. The WHL now names it's scoring champion with an award in Clarke name. In addition Clarke was recently named as the greatest center in WHL history.
| | |
| --- | --- |
| Then in June of 1969 it was time for the NHL draft. Detroit, Montreal and Philadelphia were all interested in Clarke, although each was worried about his medical condition. When the Flyers first round pick came Gerry Melnyk, a Flyers scout and admistrative assistant pleaded for the Flyers to pick Clarke but Bud Poile, the Flyers GM passed and picked Bob Currier, a tall (6'6") centerman who ended up never playing for the Flyers. Melynk immediately called a specialist in Philadelphia passing along information to prove Clarke diabeties would not pose a problem. When the Flyers next selection came up Melnyk convinced Poile to select Clarke. Immediately Detroit and Montreal made trade offers that "could not be refused". Thankfully they were. | Clarke in his rookie year |
Clarke also immediately
became the Flyers' best player

From the first day of training camp the Flyers knew they something special. Clarke was the best player on the ice. But he did put a scare in them too. Twice during training camp in Quebec City, Clarke passed out. It turned out he had skipped breakfast both days. The Flyers set up a dietetic schedule which included a glass of coke sweetened with two extra spoonfuls of sugar before each game, plus a glass of sweetened orange juice between periods. Tony Esposito ended up with rookie of the year honours in the NHL that year while Clarke ended up with only 15 goals and 31 assists. But Clarke showed progress each year: in '70-71 he had 27 goals and 36 assist . The next year he started out the season 20 pounds underweight due to an abcessed tooth. He had 5 goals and 11 assists in his first 31 games, but ended with 30 goals and 35 assists over the final 47 games. That year he won the Bill Masterton trophy for dedication, becoming the first Flyer to win a major award. The Flyers then presented Clarke with a 5 year contract.
| | |
| --- | --- |
| The following fall Clarke was to learn that he did belong with the NHL , and the world elite. Canada was to meet Russia in an 8 game series. In that fall of '72, a line was put together matching Clarke with a pair of Leafs, Ron Ellis and Paul Henderson. In a surprise to all, that line became Canada's best two way line. Unfortunately, Clarke would not be rememebered for his outstanding play but for a two handed slash that broke the ankle of Valerie Kharlamov. But as Canada went on win the series Clarke realized that he did indeed belong amongst the world's elite players. He was no longer in awe of them - he was one of them. Russian coach Bris Kulagin called Clarke Canada's best player. | Clarke in '72 Summit Series |
Clarke - winner of the
72-73 Hart Trophy

While many other of the players that played in the Canada-USSR series struggled in the NHL campaign that followed, Clarke began to shine. Opponents began leaving games with nicks, cuts and bruises and Flyers began leaving with wins. One game that people really began to take notice of Clarke as MVP material was when he scored a hattrick in Montreal leading the Flyers to a 7-6 win. Clarke ended the season with 37 goials and 104 points - second in the league only to Phil Esposito, becoming the first player from an expansion team to gather 100 points . Then came the playoffs. Their first round opponent was Minnesota. Midway during one game a stick hit Clarke in the eye breaking his hard contact lens. He was face down on the ice, legs kicking up and down screaming "I can't see !". Clarke was taken to hospital where parts of his contact were removed from under his eye. His cornea was scratched. Clarke returned the next game - and the Flyers ended up winning their first ever playoff series. The Flyers ended up losing their next round battle to Montreal, but at the end of that year the NHL announced that Bobby Clarke was their MVP for the 72-73 season.
During that season Clarke was named captain of the Flyers, becoming the youngest player ever to that point to be captain of an NHL team. He was know known as the best overall player in the league. In 1973, Clarke was named as the NHL's best checker and best at faceoffs in a poll of NHL coaches. Clarke was skilled both on the powerplay and killing penalties. His work ethic was second to none and set an example of all his teammates. His contageous drive lead the Flyers to the finals against the talent laden Boston Bruins. The Bruins won the first game of the finals as the second game headed into overtime. The Flyers won their first ever game in Boston in 1967 but had not won even a single game there since, and another Boston win would probably lead to a sweep. But Clarke would not have none of that. In what might be the greatest goal in Flyers history Clarke put a rebound over Gilles Gilbert into the Bruins goal. That goal is now depicted in the Bobby Clarke trophy which is awarded to the Flyers' MVP. That win was followed by 3 more as the Flyers skated, hit and worked past the more talented Boston Bruins to a Stanley Cup championship.

Clarke became youngest
captain in NHL history
Clarke would be a
3-time MVP in the 70's

In the 1974-75 season Clarke set a then-record for assists by a centerman with 89. Wayne Gretzky's junior coach had the young Gretzky pattern his passing style to that of Clarke. But even though Clarke was achieving superstar status he never put himself ahead of his team. He put it on himself to make sure that his teammates were taken care of both on the ice and off. All the worries about how diabeties might affect Clarke seemed to be unwarranted, as Clarke had only missed 2 games in his career up to the 74-75 season. Before the season began, Clarke requested that the Flyers' GM, Keith Allen, look into obtaining is old junior teammare, Reggie Leach. Allen came through with a trade and Leach came through with 45 goals that year. Clarke and the Flyers continued to excel both into the regukar season and the playoffs. The Flyers met the Sabres that year in the finals. Clarke won almost 90% of the faceoffs in that series as the Flyers downed the Sabres in 6 games to win their second straight title. Clarke was once again rewarded for preformance with his second Hart Trophy.
The 1975-76 season saw the Flyers play for the most part without their Conn Smythe MVP goalie Bernie Parent. But Clarke lead the Flyers to another outstanding regular season. Paired with Bill Barber and Reggie Leach, the LCB line set a record for most goals by a line with 141. Clarke matched his record setting 89 assists from the year before and set a career high in points with 119. The Flyers met the Canadiens in the finals that year but without Parent and Rick MacLeish, who was the playoffs leading scorer the previous two seasons, the Flyers were no match for the high flying Canadiens. Despite this loss Clarke was named for the third time as the NHL's MVP. The following September Clarke captained Team Canada in the first Canada Cup tournament as Canada went on to victory.

Clarke accepts Canada Cup
from former Canadain
Prime Mister Pierre Trudeau
Clarke had to give up
his captaincy to become
an assistant coach

The next 5 years saw Clarke's production declined, thanks in part to injuries. In 77-78, Clarke suffered a broken thumb and late season knee injury. He still managed 89 points but scored only 21 goals, his fewest since his rookie year. The following season he began to tire, scoring only 3 goals in the second half of the season, scoring 16 in total, but 78-79 would still mark Clarke's final appearnce in an all-star game when he was named captain of the NHL team that faced the Soviets in the Challenge Cup. Before the '79-'80 season began Clarke was named an assistant coach (Aug 10, 1979), and due to NHL rules had to give up his captaincy, which was taken over by Mel Bridgman. That season the Flyers would set a record for longest unbeaten streak (35 games). Once the playoffs started , Clarke began to shine again. His overtime goal helped eliminate Gretzky and the Oilers. His playoff point totals ranked amongst the league leaders once again. The Flyers would meet the New York Islanders in the finals that year and unfortunately bow out in 6 games. Clarke would be named that season as co-winner of the Lester Patrick Award and in a fitting tribute to the close of the decade, Clarke was named to Hockey magazine's "Team of the Seventies"
The 80-81 season saw Clarke's production slip even further to just 65 points. However his defensive abilities still remained as one the best in the league. In 81-82, Clarke suffered a broken foot and missed 18 games. But during that season, an incident that may best deescribe in a nutshell what Bobby Clarke was all about occured. On March 19th 1981 Clarke got struck by a slap shot off the stick of hard shooting Reggie Leach. A few minutes later Clarke reappeared, stitched up with his jersey spattered with his own blood. A short time later he would score a goal that would be the 1000th of his career. When things seemed to be ending for Clarke, help came along the way. Drastic improvements to insulin tracking plus good health gave Clarke his best season in 5 years for the 82-83 season. For the 8th time in his career he lead the Flyers in points with 85. Ironically, in the season that saw Clarke have the most points in 6 seasons, he was honoured as the league's best defensive forward, winning the Selke trophy.

Commeration of
Clarke's 1000 points
Clarke captaincy returned
for his last season

Clarke played for one more season, adding another 17 goals and 60 points to his totals and with his assistant coaching duties over, was renamed as the Flyer's captain. During that last year he would perform another Flyer first - first ever regular season overtime goal. He ended his playing career with 358 goals and 852 assists over his 1144 game career, having played each game with the Flyers Clarke holds team records in many scoring categories. He ranks first in games (1144), assists (852), points (1210), career +/- (+506), shorthanded goals (32), playoff games (136), playoff assists (77), playoff points (119) and playoff overtime goals (3).
But Clarke's affiliation with the Flyers would not end when his playing days were over. During his last season Clarke was shifted for many games to the left wing. Then near the end of the season coach Bob McCammon forced Clarke and other veterans into a week's break. When the Flyers' GM spot became open, Clarke realizing that the offer may not come again and that he only had at most one or two years left retired and accepted the offer. Clarke was not totally unfamilar with life in the front office. On top of his previous experience as an assistant coach Clarke was also the president of the NHL's Players Association from 1977 to 1979. Clarke's first duty was to hire a new coach. After an intensive search Mike Keenan was hired. It was a gamble since Keenan had no prior NHL experience, but it would prove to be a good decision. Clarke's first trade also proved to a success. He had sent Darryl Sittler to the Wings for Joe Patterson and Murray Craven. Sittler would end up playing only one more season while Craven was still in the NHL more than 15 years later. In Clarke first year as GM the Flyers would make the finals. Interestingly, coach Keenan had tried to convince Clarke to make as a comeback as a player when the Flyers had a serious rash of injuries during the playoffs.

Jay Snider announced Clarke's
retirement and assignment as
the Flyers' new GM
It was play like this that
made Clarke a fan favourite

The accolades for Clarke began to flood in : induction to Hockey's Hall Of Fame, a charter member of the Flyers Hall Of Fame, and a special "Bobby Clarke Night" in Philadelphia where the "Bobby Clarke Trophy" was unveiled which is now awarded to the Flyers' MVP. Success in the front office continued too. His Flyers made the finals again in 1987 and that September Clarke was named as one of the four general managers of Team Canada that would participate in the 1987 Canada Cup. But with some poor draft choices Clarke's success began to slide and on April 16th, 1990, Clarke was fired. But it didn't take too long for Clarke to find another job. Now as the GM of the Minnesota North Stars his team surprized almost everyone and made the finals during the 90-91 season. After one more season Clarke made a return to Philadelphia, this time as a senior VP. Clarke returned to a GM post on March 1st 1993 when he was hired by the expansion Florida Panthers. His club set a record for most points by a first year team with 83. When the Flyers GM post opened a year later (June 15, 1994), the Flyers rehired their icon, giving a second round draft choice as compensation. Three years later the Flyers once again made the finals marking the fourth time one of Clarke's teams achieved that mark. In 1997 Clarke was once again recognized as one of the best GM's in the game when he was named as the GM of Canada's Olympic team.
Clarke as a player set the standards by which every other Flyer player will always be marked. His work ethic and leadership lead his team to two Stanley Cup championships. With Clarke now as the Genenal Manager, all Flyer fans hope that these same qualities will lead the Flyers to more championships.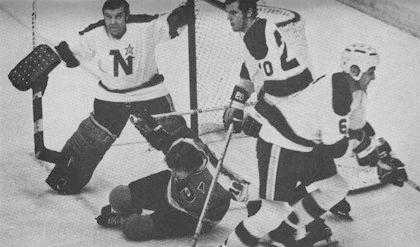 Clarke battles in front of the maskless Gump Worsley


| | | | | | | | | | | | | |
| --- | --- | --- | --- | --- | --- | --- | --- | --- | --- | --- | --- | --- |
| Year | GP | G | A | Pts | PIM | +/- | PP | SH | GW | GT | Sht | Sh% |
| 1969-70 | 76 | 15 | 31 | 46 | 68 | 1 | 5 | 1 | 0 | 1 | 214 | 7.01 |
| 1970-71 | 77 | 27 | 36 | 63 | 78 | 9 | 10 | 1 | 5 | 3 | 185 | 14.59 |
| 1971-72 | 78 | 35 | 46 | 81 | 87 | 22 | 11 | 1 | 3 | 3 | 225 | 15.56 |
| 1972-73 | 78 | 37 | 67 | 104 | 80 | 32 | 10 | 2 | 4 | 4 | 231 | 16.02 |
| 1973-74 | 77 | 35 | 52 | 87 | 113 | 35 | 10 | 5 | 5 | 3 | 221 | 15.84 |
| 1974-75 | 80 | 27 | 89 | 116 | 125 | 79 | 10 | 3 | 4 | 1 | 193 | 13.99 |
| 1975-76 | 76 | 30 | 89 | 119 | 136 | 83 | 10 | 4 | 2 | 1 | 194 | 15.46 |
| 1976-77 | 80 | 27 | 63 | 90 | 71 | 39 | 6 | 6 | 3 | 0 | 158 | 17.09 |
| 1977-78 | 71 | 21 | 68 | 89 | 83 | 47 | 5 | 2 | 1 | 1 | 131 | 16.03 |
| 1978-79 | 80 | 16 | 57 | 73 | 68 | 12 | 5 | 1 | 1 | 1 | 143 | 11.19 |
| 1979-80 | 76 | 12 | 57 | 69 | 65 | 42 | 1 | 2 | 2 | 1 | 139 | 8.63 |
| 1980-81 | 80 | 19 | 46 | 65 | 140 | 17 | 5 | 1 | 2 | 0 | 150 | 12.67 |
| 1981-82 | 62 | 17 | 46 | 63 | 154 | 28 | 2 | 1 | 3 | 1 | 110 | 15.45 |
| 1982-83 | 80 | 23 | 62 | 85 | 115 | 37 | 6 | 1 | 2 | 2 | 164 | 14.02 |
| 1983-84 | 73 | 17 | 43 | 60 | 70 | 23 | 3 | 1 | 1 | 1 | 129 | 13.18 |
| TOTAL | 1144 | 358 | 852 | 1210 | 1453 | 506 | 99 | 32 | 38 | 23 | 2587 | 13.84 |

| | | | | | | | | | | | | |
| --- | --- | --- | --- | --- | --- | --- | --- | --- | --- | --- | --- | --- |
| Year | GP | G | A | Pts | PIM | +/- | PP | SH | GW | OT | Sht | Sh% |
| 1971P | 4 | 0 | 0 | 0 | 2 | | 0 | 0 | 0 | 0 | | |
| 1973P | 11 | 2 | 6 | 8 | 6 | | 2 | 0 | 1 | 0 | | |
| 1974P | 17 | 5 | 11 | 16 | 42 | | 1 | 0 | 2 | 1 | | |
| 1975P | 17 | 4 | 12 | 16 | 16 | | 2 | 1 | 2 | 1 | | |
| 1976P | 16 | 2 | 14 | 16 | 28 | | 1 | 0 | 0 | 0 | | |
| 1977P | 10 | 5 | 5 | 10 | 8 | | 2 | 0 | 0 | 0 | | |
| 1978P | 12 | 4 | 7 | 11 | 8 | | 1 | 0 | 0 | 0 | | |
| 1979P | 8 | 2 | 4 | 6 | 8 | | 1 | 0 | 0 | 0 | | |
| 1980P | 19 | 8 | 12 | 20 | 16 | | 8 | 0 | 2 | 1 | | |
| 1981P | 12 | 3 | 3 | 6 | 6 | | 0 | 1 | 0 | 0 | | |
| 1982P | 4 | 4 | 2 | 6 | 4 | | 1 | 1 | 0 | 0 | | |
| 1983P | 3 | 1 | 0 | 1 | 2 | 1 | 0 | 0 | 0 | 0 | | |
| 1984P | 3 | 2 | 1 | 3 | 6 | -1 | 0 | 0 | 0 | 0 | 8 | 25.00 |
| TOTAL | 136 | 42 | 77 | 119 | 152 | 0 | 19 | 3 | 7 | 3 | 8 | |

| | |
| --- | --- |
| Season | Award |
| 1981-82 | Yanick Dupre Memorial : Class Guy |

| | | |
| --- | --- | --- |
| Date | Scorer | Score |
| 3-Mar-73 | Bobby Clarke : 100th Point | Atl 2 - Phi 4 |
| 22-Mar-75 | Bobby Clarke : 100th Point | Min 0 - Phi 4 |
| 11-Mar-76 | Bobby Clarke : 100th Point | Buf 1 - Phi 6 |
---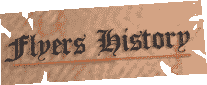 Copyright 1998-2008 - P.Anson